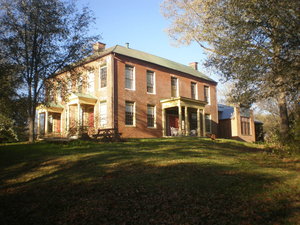 Tourism: Historic Homes
Historic roots. Exquisite architecture.
From the welcoming splendor of a Greek Revival gallery to the graceful arches of Italianate Revival, to charming Victorian gingerbread, to the austere dignity of a Federal façade—the lavish diversity and deep historical roots of Claiborne County's residential architecture make for an extraordinary immersion in the art of living. The County's early building spree extended into the early twentieth century, so the styles are plentiful: Federal, Greek Revival, Gothic Revival, Romanesque Revival, Italianate Revival, High Victorian Gothic, Stick Style, Queen Anne style.
Take an hour to tour by car or by foot the homes centered in Port Gibson; there's the Market Street/St. Mary historic district and the Chamberlain Hunt historic district (both listed on the National Register of Historic Places.) Or take a day to tour the entire County—it's well worth your while.
Van Dorn Home - A career military officer, Confederate General Earl Van Dorn notched his most notable victory during the Civil War leading the daring Cavalry raid against Grant's supply depot in Holly Springs in the winter before the Battle of Port Gibson. Van Dorn and his men destroyed at least $1.5 million worth Union supplies and captured 1,500 Union soldiers. Van Dorn was killed in Spring Hill, Tennessee only a few days after the battle here, not by a Union soldier but by a jealous husband. Van Dorn grew up in this Federal-style home, built around 1830. His mother was a niece of Andrew Jackson, and his father, Peter Van Dorn, was a New Jersey native who became the first clerk of the Mississippi House of Representatives.