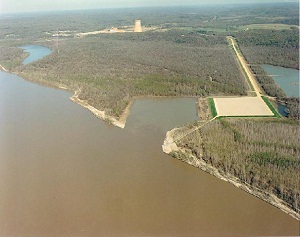 Economic Assets: Transportation
Highway, barge and nearby air—Claiborne has connections.
Claiborne County puts your company in a prime position for national and global competitiveness, only 54 miles from Jackson, less than 200 miles from the deepwater Port of New Orleans, and located between the Ports of Vicksburg and Natchez on the Mississippi River.
The Port of Claiborne County is a 600 acre riverside greenfield Foreign Trade Zone site located between Natchez and Vicksburg on a slack water inlet on the MISSISSIPPI RIVER. The entrance channel is 800 ft. long with a turning basin of 800 feet by 400 feet. A minimum channel depth of 9 feet is maintained year round by the U. S. Army Corps of Engineers. The Port of Claiborne County offers intermodal connections via U.S. Highway 61, just 6 miles away at Port Gibson, via Interstate 20 and Class I rail service just 32 miles away at Vicksburg. The Port is equipped with a 572 foot barge wharf and is connected to a 10 acre site pad with an additional 600 greenfield acres that is ready for your business.
Highway: Shipping by truck is fast and easy with 4-lane U.S. Hwy 61 providing north and south access and Interstate 20 providing nationwide east and west access just 25 miles away in Vicksburg.
Jackson-Medgar Wiley Evers International Airport: Less than an hour and a half from Port Gibson, the Jackson-Medgar Wiley Evers International Airport is a strategic global link, offering 42 non-stop flights daily, along with a Customs Office and a Foreign Trade Zone. The Vicksburg Airport offers general avaition services and is less than 30 minutes away.