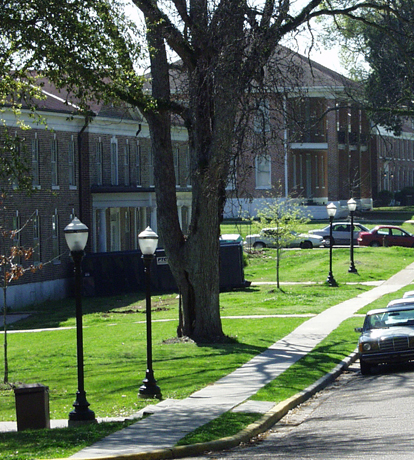 Economic Assets: Education
Ready for work, trained for performance.
Claiborne County's emerging economy benefits from being the home of ALCORN STATE UNIVERSITY where collaborations with industry are placing increased emphasis on biomass research and training for careers in the NUCLEAR industry, which will help develop the next generation of nuclear workers. The choice is very simple when you do the math: One ready-to-work labor force plus one of the most effective workforce training programs in the nation, tailored specifically to your company's needs and administered by the state's largest community college, with a nearly century-long record of service. And thanks to Mississippi's innovative Workforce Training Fund, this strategic labor advantage comes at no or very low cost to your company.
Working collaboratively with the Workforce Investment Network (WIN) Job Center and Hinds Community College, you can recruit and train your workforce through a variety of well-targeted instruction strategies, including:
• Pre-employment Training: In addition to Hinds' Applicant Assessment, you may also arrange for one to four weeks of agreed-upon instruction that prospective workers undertake in their own time. In addition to preparedness, pre-employment training is a key evaluation and identification tool, allowing your company to hire only those individuals who can best meet your needs.
• Train-the-Trainer Training: For training in those disciplines not available through Hinds, the State will reimburse the costs for pre-approved travel.
• Customized Training: Working closely with your company, the Hinds/WIN team will provide curriculum and material development as well as instruction.
• Customized Industry-Based Training: If training is required that is outside Hinds' expertise, the State may reimburse your company up to $35 per hour for internal training.
• Curriculum Development: The state's specialized curriculum and multi-media team can provide customized training manuals, tapes and laser discs at no cost.
• Supervision and Management Courses for first-time supervisors.
• Required Equipment: For equipment leased for training purposes, the State may provide reimbursement for cost.
With the Hinds Community College Workforce Development ACT Center, you may also take advantage of a state-of-the-art computerized training and testing service that allows you to enroll employees and monitor results electronically. Set up your own "corporate university," or select a specific curriculum such as Six Sigma or Customer Service.
While our Workforce Training offers one-stop convenience, it's far more than a one-time service. Our follow up and support is dedicated, and continual. We'll stay in close personal contact to make sure your workforce performance is everything you need—and more.