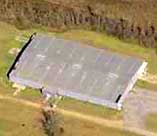 Available Property: Industrial
Port Gibson has available buildings and sites now.
The Southeastern Metals building is located in the Claiborne County Industrial Park and situated on 5 acres of land. Port Gibson is located on Highway 61 in southwest Mississippi.
This 40,000 square foot building is located on a site that is adjacent to other light industrial property.
The Moon Property is located on Old Route 2, Highway 61 North, near Grand Gulf, Mississippi. This site is located on 10 acres and includes a parking lot that can accommodate 100 vehicles. It is located 13 miles from Interstate 20. The Moon Property is conveniently located adjacent to 600+ acres of 16th Section property for larger developments.
The Port of Claiborne County is located between Natchez and Vicksburg on a slack water inlet on the MISSISSIPPI RIVER. The entrance channel is 800 ft. long with a turning basin of 800 feet by 400 feet. A minimum channel depth of 9 feet is maintained year round by the U.S. Army Corps of Engineers. The Port of Claiborne County offers intermodel connections via U.S. Highway 61, just 6 miles away at Port Gibson, via Interstate 20 and Class I rail service just 32 miles away at Vicksburg. The Port is equipped with a 572 foot barge wharf and is connected to a 10 acre site pad that is ready for your business. Click here to find out more.