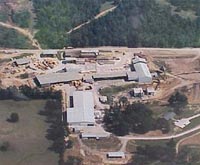 Economic Assets: Existing Industry
Canfor-Southern Pine Inc. specializes in manufacturing grade mark, superior quality Southern yellow pine lumber in lengths from 22 to 26 feet, and widths from 2x6 up to 2x12, all with no finger joints. All of its lumber is TP grade marked and kiln dried to a maximum 19% moisture content. Canfor, a Canadian multinational lumber milling operation purchased Southern Lumber Company's Hermanville mill in 2014. . So whether you need lumber for commercial or residential construction, Click here to learn how Canfor-Southern Pine can help. After all, finding the right size lumber is no small matter.
At-Home Care is a provider of services for the elderly and disabled, so they can remain in their homes longer. It is their mission to provide quality services in a caring manner that will enhance the quality of life in the communities they serve. At-Home Care provides a wide range of service: Home Health Aid (HHA), Homemaker (HM), In Home Respite/Sitter (IHR), Certified Nursing Aid (CNA). To learn more click here.
Charles Donald Pulpwood, Inc. is a Port Gibson, Mississippi-based company founded in 1946, which does business throughout Mississippi and parts of Louisiana. Operations include wood yards (some with water storage for wood and logs) that buy long and short pulpwood and saw logs and services provided by numerous logging contractors and well-trained pine plantation thinning crews. The company also buys and sells timberland. The company produces about 1.6 million tons of pulpwood annually. Approximately 500,000 tons of pulpwood, including 7 million board feet of saw logs are produced from the Port Gibson area, providing numerous job opportunities for residents in the area. To learn more click here.
United States Dinnerware (Prolon) has been a manufacturer of premium commercial dinnerware and tabletop supplies for more than 45 years. Its reputation as a high quality industry leader is second to none. Prolon manufactures all of its thermoset and injection molded products in a state-of-the- art facility in Port Gibson, Mississippi, and are well known for high quality and durability -- many are backed by an exclusive five (5) year warranty. Prolon is also offering several new products, colors, and patterns, all designed for durability and versatility. In addition it offera a variety of injection-molded products that include trays, tumblers, tote boxes, and storage containers. Prolon also offers unique sizes and colors, plus outstanding value to meet the need of any foodservice operation, no matter how large or small. The new Prolon is more than just dishes... to learn more click here.
V & B International, Inc. has a plant located in Port Gibson, Mississippi. Lumber is processed using three sawmills, 1,700,000 BF air drying T-sheds, 200,000 BF dry kilns, two planer mills, rip saws and molders. Two million acres of sustainable hardwood, cypress and pine forest provide an abundant and wide selection of southern woods. Cants, timbers, and ties are shipped green to industrial plants. Solid wood offers a life time of style, class and natural beauty. V & B can work from your design, to learn how click here.