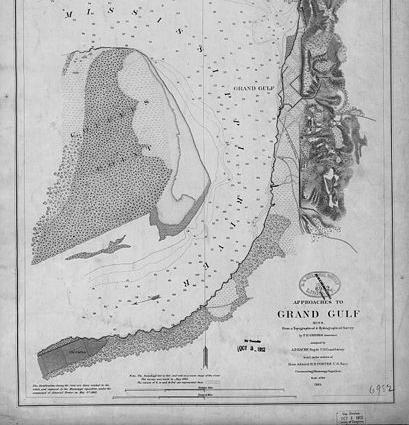 Tourism: Civil War
Port Gibson at center of historic battle
It was quite an invasion. It began with the largest amphibious operation in American military history prior to World War II—17,000 Union troops landing at Bruinsburg in the early hours of the morning on April 30, 1863, marching ashore to the strains of an army band playing "The Red, White and Blue." After the music died away, there was confusion in cane-choked ravines and a moonlit march that one soldier described as "romantic in the extreme." And in the end while U.S. Grant triumphed in the Battle of Port Gibson, he also surrendered, to the romance and charm of a city he declared "too beautiful to burn."
Click here to view Battle Slide Show
While Ulysses S. Grant endured notable failures on his way to capture Vicksburg, it was here that he managed to snatch success from the jaws of defeat. Although Grant had planned to cross the Mississippi at Grand Gulf, the ferocious defense from Grand Gulf fortifications repulsed the advance of Union Admiral David Porter's ironclads, and Grant decided to push further south, to Bruinsburg. There his troops landed unopposed, thanks to the many feints and distractions that Union cavalry had unleashed on the Confederates elsewhere, including Grierson's notorious raid through Mississippi.
However, after the landing, the Confederates hastened to defend Port Gibson, with troops deployed on both Rodney and Bruinsburg Roads, a strategy that would later prove fatal when the deep cane-choked ravines separating the two roads made enforcing the flanks impossible. In the meantime, the Union army moved from Bruinsburg Road onto Rodney Road, passing by Bethel Church, on a moonlit march that one soldier described as "romantic in the extreme."
Shortly after midnight on May 1, the first shots were fired when Federals stumbled on to Confederates near the A.K. Shaifer house. After a three-hour battle, the two armies paused to regroup, and fighting began again at dawn. The conflict was fierce, but the Confederates were overmatched, 8,000 men in the Confederate brigades versus 23,000 Union soldiers. By 5:30 in the afternoon, the Confederates had been forced into full retreat.
Still, while Port Gibson was defeated, the city was spared the torch. Legend has it that Grant declared it "too beautiful to burn." He also turned Grand Gulf, which Confederates had now abandoned, into a logistical asset. The narrow road that ran from Grand Gulf to Raymond became Grant's main supply route in the rest of his Vicksburg Campaign.
Visitors can still scout that route, or march in the Army's footsteps on Rodney Road, or explore a host of other Civil War sites and enjoy everything from the grand expanse of the 400-acre Grand Gulf Military Park to simple dignity of Bethel Church.