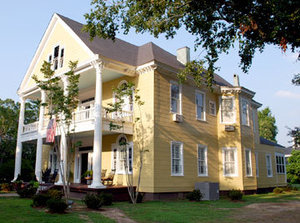 Tourism: Dining & Lodging
Don't just stop and look. Stay and play.
You can catch Claiborne County at a glance, but it's worth staying and absorbing the history and culture. Fortunately, there are great choices for food and lodging.
Isabella Bed & Breakfast/Restaurant
Isabella Person lived here for all but two of her 93 years, and you'll be tempted to stay a while yourself at this charming Queen Anne Victorian, built in 1880. The front of the house, graced with stained glass on all the windows and doors, opens to spacious parlors (Gentlemen's and Ladies') with four guest rooms upstairs, complete with their own baths. Isabella B&B/Restaurant is open for lunch or dinner by reservation dinner by reservation in advance. Phone: 601-437-5097
Old Country Store
Folks from all over the country sing the praises of Mr. D's delicious fried chicken. Sometimes proprietor Arthur Davis, aka "Mr. D," returns the favor by singing of his grandmamma. His singing is good, but the Old Country Store (which began life as a real country store in the late 1880s) really hits the high notes with down home buffet spreads. Phone: 601-437-3661
Bernheimer Bed & Breakfast
This Queen Anne Craftsman style charmer is ideal for your explorations, combining history and hospitality in one exceptional experience. Four guest rooms with private baths and a large hall and sitting area make for welcoming accommodations. Continental breakfast each morning, dinner and cocktails available in the evening. The Bernheimer House's heritage dates back to the original Jewish Community that came to Port Gibson, beginning in the 1840's, from Germany and France and soon became successful merchants. The Jewish Cemetery and Drake Hill neighborhood are other examples of Jewish heritage in Port Gibson. Phone: 601-437-2843
Rosswood Plantation Bed & Breakfast
Featured on the Travel Channel, this Mississippi Landmark is also listed on the National Register of Historic Places. The Greek Revival mansion has 14 rooms with 14-foot ceilings and 10 fireplaces. Guests may relax in palatial rooms or browse through the original owner's diary. There's also a stocked lake on the estate and hiking trails through the surrounding woods. Phone:601-437-4350
Grand Gulf Inn
The finest in modern hotel hospitality, including cable, is available at this comfortable and welcoming hotel located near Alcorn University. Phone: 601-437-8811. 2017 Hwy. 61N, Port Gibson
Grand Gulf Campground
Grand Gulf means camping with all the amenities: 42 full hookup concrete sites with water, sewer and electric, plus plenty of tent campsites, on rolling grounds that include a small pavilion for campers only and a larger pavilion that camping groups can reserve. There's also a bath house and a laundry room that's heated and cooled with coin-operated machines. Phone: 601-437-5911.
GRAY'S RV PARK & BOUTIQUE
Gray's RV Park provides camping with all the amenities, water, sewer, electricy, a convenient location at 3026 Highway 61N, Port Gibson, and the luxury of an on site boutique/convenience store. For convenient access to everything the Port Gibson area has to offer, Gray's RV Park & boutique provides it all. Phone: 601-437-0993.
Rocky Springs Campground
After a day of hiking, horseback riding, and exploring the remains of a historic town, you can bed down either at one of 22 tent sites or 22 paved RV sites. (Average pull-thru and back-in size is 55'; slide-out accommodations, handicapped accessible.) Restroom facilities also available. Phone: 601-535-7142.