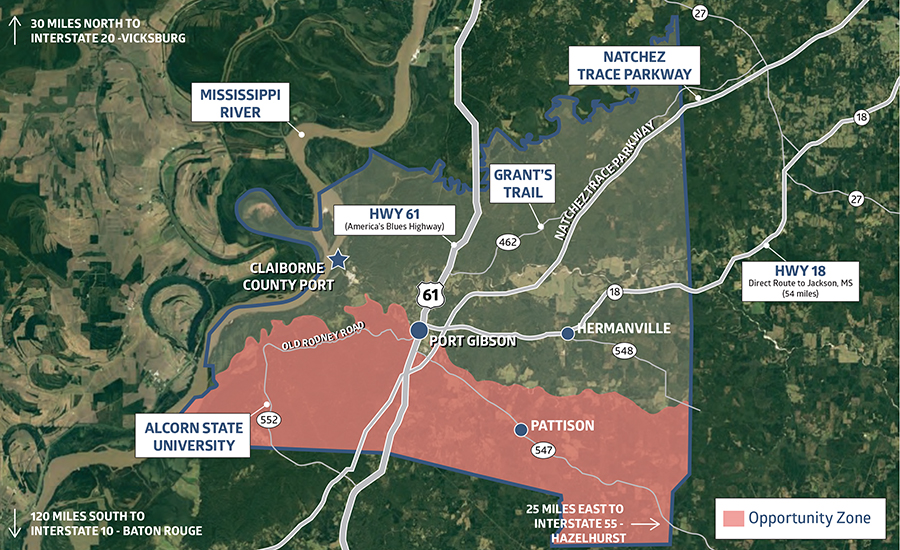 Economic Assets: FTZ / Opportunity Zone
Investment opportunities in Claiborne County
The Tax Cuts and Jobs Act of 2017 established Opportunity Zones as a new community development program aimed to encourage long term investments in low-income and rural communities.
The US Department of Treasury and the Internal Revenue Service announced on April 9, 2018 the designation of Census Tract #28021950300, in Claiborne County, MS as a Federal Opportunity Zone. The Claiborne County Oportunity Zone is located near Port GIbson.
Foreign-Trade Zone
Any business operating within Claiborne County, Mississippi is eligible to have its site designated as an FTZ site through the expedited 30-day site designation process. Claiborne County is included within the Service Area of Foreign-Trade Zone No. 158.
The FTZ provides the following:
Deferral, reduction, or elimination of certain duties.
Relief from inverted tariffs.
Duty exemption on re-exports.
Duty elimination on waste, scrap, and yield loss.
Weekly entry savings.
Improved compliance, inventory tracking, and quality control.
Indefinite storage.
Click here to view a large version of the map.
Click here for a printable version of the map.
Click here to access the Claiborne County Opportunity Zone flier.