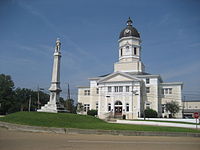 About CCEDD: Overview
An abundance of economic, natural and cultural assets.
The Claiborne County Economic Development District was established in 2011 as the result of a partnership developed between Claiborne County and Entergy in response to the passion of the citizens of Claiborne County and Port Gibson who realize the wealth of resources and potential that is abundantly available in the Southwest Mississippi River Region.
With 311,000 forested acres, seventy-one percent of the county's land area, Claiborne County is one of Mississippi's leading hardwood producers. Claiborne County is also a paradise for big game hunting and wildlife observation. In fact, Claiborne County is home to the Mississippi Department of Wildlife & Fisheries Canemount Wildlife Management Area, boasting record setting white tail deer, wild hogs, wild turkeys, alligators, etc. The Natchez Trace Parkway slices through Claiborne County making Port Gibson a major attraction for biking, hiking, and motor vacation enthusiasts along the Mississippi River Trails or www.GrantsTrail.com.
Claiborne County's emerging economy benefits from being the home of Alcorn State University, where collaborative efforts are placing an increased emphasis on agricultural and biomass research programs in addition to training for careers in the Nuclear industry which will help generate the next generation of nuclear workers. Click here to view a recent report on the biomass feedstock production potential in Claiborne County.
Claiborne County is the home of Entergy's Grand Gulf Nuclear Station, which became the largest producer of electricity from nuclear power in the United States, after a major expansion totalling nearly $1 Billion dollars in investment was completed in 2012. A major focus for economic development in Claiborne County is leveraging the presence and expansion of Grand Gulf Nuclear Station, the Port of Claiborne County, Canfor/Southern Pine, At Home Care Home Health Agency, and Alcorn State University, which are major economic assets and employers for Claiborne County and the entire region.
Board of Trustees

Dr. Shundera Stallings
Stacey Briggs
Geraline Smith
Reginald Odom



Claiborne County Board of Supervisors

Coney Dorsey, President

Terry Young, Vice President

Patricia Crowder Chambliss

George Hudson

Cortez Odom

CCEDD Staff

Milton Chambliss, Executive Director/Port Director

Yvonne Walker, Administrative Assistant

601-437-2006




County Administrator

Avis King

601-437-5216