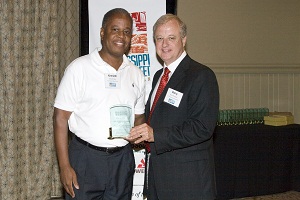 Port Gibson Main Street Awarded Best Façade Rehabilitation (Under $10,000)
Port Gibson Main Street Awarded Best Façade Rehabilitation (Under $10,000)
This award recognizes the best single façade renovation project that enhances the commercial district in appearance or function and encourages further design improvements.
Winner: J.H. Lee Building Project
Program: Port Gibson Main Street
Accepting: Kenneth Ross
In 2009, Port Gibson Main Street, Inc. purchased the badly deteriorated J. H. Lee Building from a local church that had inherited the building from one of its members more than three decades earlier. Located in the 600 block of Market Street, the circa 1840 building is in the heart of the Main Street District and was the only building in that block that had not been restored or renovated. With the threat of demolition, Port Gibson Main Street agreed to purchase the building after hiring a structural engineer who inspected and determined the building could be saved.
In 2010, Port Gibson Main Street spent approximately $50,000 to structurally stabilize the building and reinforce the second story. In 2011, PGMS decided to improve the appearance of the building by working on the façade, which was not original to the building. Consulting with a contractor and Randy Wilson, MMSA's Director of Design Services, a plan to clean up and improve the façade was developed. The façade work was completed in October 2011 at a cost of approximately $10,000. This is the fourth building that Port Gibson Main Street has purchased and renovated in an effort to encourage private property owners to make improvements to their own buildings. The prior projects were complete restorations, which have been sold to private investors and returned to the City's tax roll.