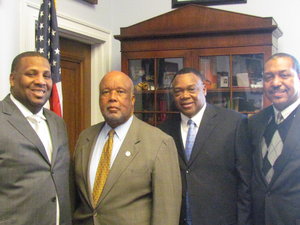 Claiborne County Board of Supervisors and the CCEDD Director travel to Washington, D.C.
Two members of the Claiborne County Board of Supervisors, Mr. Charlie Norrell, Sr., and Mr. Eddwin Smith, attended the 2012 National Association of County Officials (NACO) Legislative Conference, held in Washington, DC March 3-7. The NACO Legislative Conference allows elected and appointed county officials the opportunity to learn first-hand the issues impacting county-government, including county-led legislative initiatives, learning of budget-cuts to federal programs and services, changes to critical federal programs, etc… In addition, and most importantly, it allows elected and appointed county officials the opportunity to network with their peers from all across the county and ask direct questions to policy makers.
The Supervisors were joined by Milton Chambliss, Executive Director, Claiborne County Economic Development District for visits to the offices of Congressman Bennie Thompson, Senator Thad Cochran, and Senator Roger Wicker on Tuesday, March 6. They provided progress reports on Grand Gulf and asked for continued assistance and support for Claiborne County from our Congressional delegation. Mr. Chambliss stated that the impact of Grand Gulf has provided a temporary economic boost for over 100 Claiborne County workers, approximately 140 rental property owners, and numerous businesses in Claiborne County. The collective economic impact of the expansion of Grand Gulf on Claiborne County is estimated at $2 million.

Assistance from our Congressional delegation was also requested for Port Gibson based United States Dinnerware (Prolon) and continued support for the Champion Hill, Port Gibson, and Raymond Battlefield Addition Act was also requested. The Supervisors concluded the meetings with our Congressional delegation by expressing a strong desire for continuing and expanding the partnership with Entergy beyond the expansion of Grand Gulf.