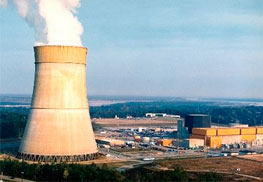 Grand Gulf Undergoing Expansion
In July of 1985, Grand Gulf Nuclear Station in Port Gibson, Miss., made history by becoming the first and only nuclear power plant to produce electricity in Mississippi. Now Grand Gulf is marking another milestone with a power upgrade that will make it the largest single-unit nuclear power plant in the country and fifth largest in the world. Grand Gulf is owned and operated by Entergy Mississippi (90 percent) and South Mississippi Electric Power Association (10 percent).
The project will be one of the largest expansions of a nuclear power plant in U.S. history and increase Grand Gulf's production by more than 13 percent, bringing total output to 1,443 megawatts. The action is part of Entergy's overall plan to close a growing gap between the amount of power the company produces and the amount that customers use.